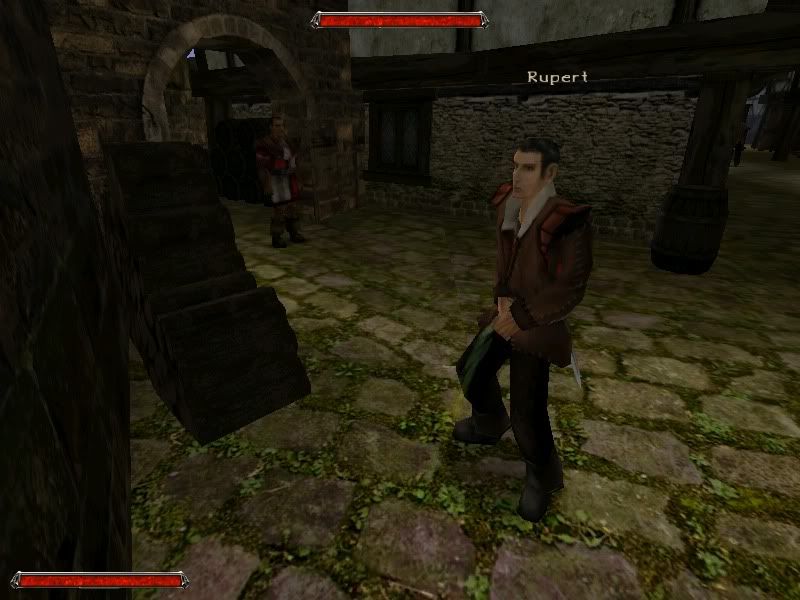 Begin your journey as a prisoner of the King, who must find enough magic ore to forge weapons for his army in defense against the Orcs. The mines are set in a large magical sphere and inside this sphere you will start exploring Myrtana's mysteries. Once you've managed to burst the bonds of imprisonment, you will need to explore the island of Khorinis. Willing to do whatever is necessary to banish evil once and for all, defend the people against the Orcish threat and venture deep into subterranean temples. After your escape from the island you didn't find safety: The Orcs have finally conquered Myrtana and enslaved the humans. Barbarians of the icy north and a few fearless rebels are the only resistance. You can either support their efforts or join the Orcish occupation forces - but whatever you do - the destiny of Myrtana is yours to forge! Hundreds of weapons, items, spells and artifacts to equip and use !
Like Gothic, Gothic II is set on the medieval styled isle Khorinis. Places include the City of Khorinis, the monastery of the fire mages, farms and woods. The mine valley of part I is also in the game, though it has changed. Of the old camp only the castle remains, the new camp has turned into a region of ice, and the swamp camp is made inaccessible by a fence built by the orcs. The place final visited in the game is Irdorath, a dungeon similar to the temple in Gothic.
Khorinis is a rich area with beautiful farms and dense forests. The main trade resource of Khorinis is the magic ore delivered from its prison colony to the King, who is fighting the orcs on the mainland. All the farms in Khorinis are owned by one landowner who has hired mercenaries to protect him and his farms from the militia when they try to collect taxes from the farms. This has caused Khorinis to be on the edge of a civil war. The city is low on food and relies on travelling merchants as the ships from the mainland have stopped coming because of the war.
The expanded version of the story from the original Gothic II, told by the addon, introduces a new world called Jharkendar. Situated in the northeast of Khorinis, Jharkendar is presented as an ancient, deserted city. The player helps the Water Mages, also present in Gothic, but which were missing in Gothic II, open a portal, found in an old temple in the land of Khorinis.
ps. download every file,look in last file first for instructions, extract, install and enjoy in game!
Please say thanks!