Double Dynamite (1951)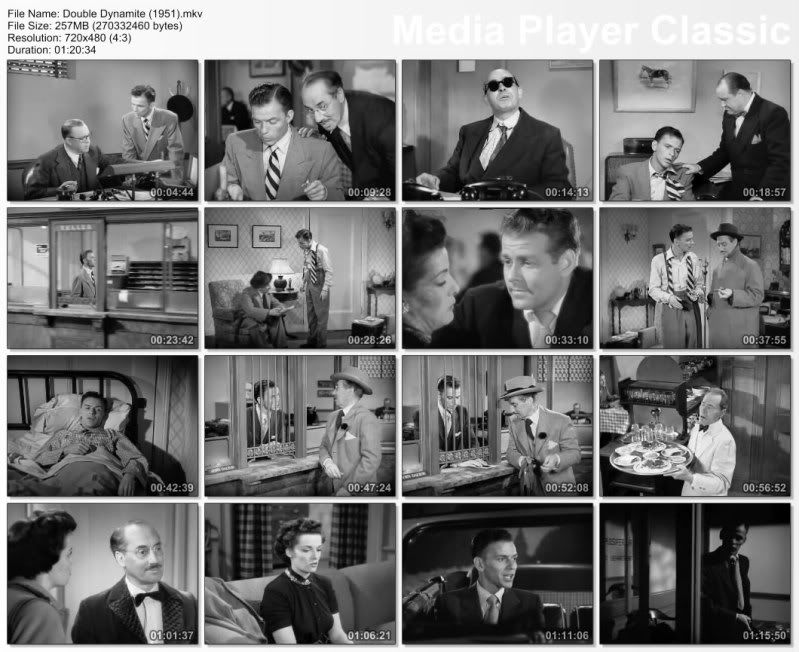 DVDRip English
Rating 5.4
Director: Irving Cummings
80 min
Comedy | Music | MKV
Bank teller Johnny Dalton, too poor to marry his sweetheart 'Mibs' Goodhug, saves a big-time bookie from a beating and receives a munificent reward...which just happens to match a mysterious shortage at the bank! Will Johnny's pal, eccentric waiter Emile, get him out of trouble...or in so deep he'll never get out?
Jane Russell ... Mildred 'Mibs' Goodhue
Groucho Marx ... Emile J. Keck
Frank Sinatra ... Johnny Dalton
Don McGuire ... R.B. 'Bob' Pulsifer Jr.
Howard Freeman ... R.B. Pulsifer Sr.
Nestor Paiva ... 'Hot Horse' Harris, the Bookie
Frank Orth ... Mr. Kofer
Harry Hayden ... J.L. McKissack
William Edmunds ... Mr. Baganucci
Russell Thorson ... IRS Tailman (as Russ Thorson)